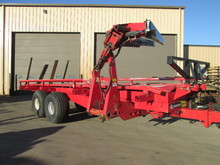 CLICK TO ENLARGE
EXTRA PHOTOS: 1 | 2 | 3 |
ANDERSON TSR-3450 BALE WAGON
MAKER: ANDERSON
MODEL: TSR-3450
YEAR: UNKNOWN
CONDITION: VERY GOOD
TAG#: 240567
PRICE: PLEASE CALL FOR PRICING INFORMATION.
---
OTHER FEATURES, SPECS OR COMMENTS:
THE TSR3450 IS A SELF-LOADING BALE CARRIER ENABLING YOU TO PICK UP AND CARRY SQUARE BALES QUICKLY AND EFFECTIVELY. COMPLETELY REMOTE CONTROLED FROM THE SAFETY AND COMFORT OF CAB OF YOUR TRACTOR. THE RUGGED FRAME AND STEEL BED WILL SUPPORT WET AND DRY BALES. THE ADJUSTABLE BALE CLAMP ALLOWS YOU TO LOAD DIFFERENT SIZE BALE SIZES.
1.HIGH FLOATATION TIRES. 2.ADJUSTABLE SELF-LOADING ARM TUBULAR ROUND-SHAPED DESIGNED FOR BALE NET PROTECTION.
3.HYDRAULIC UNLOADING SYSTEM. 4.HYDRAULIC PUSH OFF SYSTEM.
5.FULL CHARGE INDICATOR. 6.TANDEM AXLE. 7.RUGGED FRAME TO SUPPORT WET BALES.