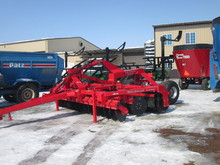 CLICK TO ENLARGE
EXTRA PHOTOS: 1 | 2 | 3 |
MAKER: HEVA
MODEL: 153257
YEAR: 2019
CONDITION: NEW
TAG#: 241356
SERIAL#: 351263
PRICE: PLEASE CALL FOR PRICING INFORMATION.
---
OTHER FEATURES, SPECS OR COMMENTS:
THE DISC ROLLER IS HIGHLY VERSATILE, IT CAN BE USED TO INCORPORATE STUBBLE AND OTHER CROP RESIDUES TO A DEPTH OF UP TO 5 INCHES IN MINIMAL TILLAGE CULTIVATIONS.
IT IS ALSO A SUPERB TOOL FOR WORKING PLOUGHED LAND PRIOR TO DRILLING AND WITH AROUND 1 TON PER ACRE YOU HAVE AN EFFICIENT CONSOLIDATING PRESS FOR SECONDARY CULTIVATIONS.
THE DISC ROLLER IS A RESULT OF YEARS OF DEVELOPMENT AND TESTING TO FIND THE IDEAL DISC DESIGN, SPACING AND ANGLE FOR SHALLOW CULTIVATIONS WHILST THE DSD SYSTEM AUTOMATICALLY CHANGES THE ANGLE OF THE DISC FOR DEEPER WORK.