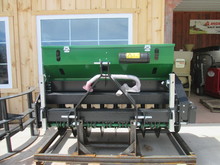 CLICK TO ENLARGE
EXTRA PHOTOS: 1 | 2 | 3 | 4 |
RTP GENESIS 5 GRAIN DRILL
MAKER: RTP
MODEL: GENESIS 5
YEAR: UNKNOWN
TAG#: 242259
SERIAL#: C2184157
PRICE: PLEASE CALL FOR PRICING INFORMATION.
---
OTHER FEATURES, SPECS OR COMMENTS:
THE GENESIS 5 IS OUR BEST SELLING NO TILL FOOD PLOT DRILL. DESIGNED BY HUNTERS, FOR HUNTERS, THE GENESIS IS A TRUE NO TILL DRILL. THAT MEANS HUNTERS CAN SAVE TIME AND MONEY, PRESERVE SOIL MOISTURE AND INCREASE GERMINATION RATES. THE GENESIS 5 HAS A 60" WORKING WIDTH, 8 CUTTING ELEMENTS AND 7.5MPH TOP SPEED ALL COMBINE TO ALLOW PLANTING 4.5AC PER HOUR.