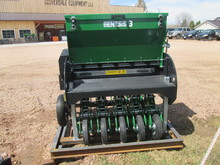 CLICK TO ENLARGE
EXTRA PHOTOS: 1 | 2 | 3 |
RTP GENESIS 3 GRAIN DRILL
MAKER: RTP
MODEL: GENESIS 3
YEAR: UNKNOWN
CONDITION: NEW
TAG#: 242260
SERIAL#: C2183749
PRICE: PLEASE CALL FOR PRICING INFORMATION.
---
OTHER FEATURES, SPECS OR COMMENTS:
THE ONE AND ONLY, GENESIS 3 IS THE WORLD'S FIRST AND ONLY, TRUE NO TILL DRILL DESIGNED FOR UTVS. THE GENESIS 3 HAS ALL THE GREAT FEATURES OF THE ICONIC GENESIS BRAND, JUST IN A SMALLER PACKAGE. WITH 5 CUTTING ELEMENTS AND 38" WORKING WIDTH, THE GENESIS 3 CAN BE TOWED BEHIND SMALLER TRACTORS OR 800CC+ UTVS. OR WITH THE USE OF YOUR 3-POINT TRACTOR LIFT & 1,500LBS LIFT CAPACITY, YOU CAN LIFT THE GENESIS 3 AND DRIVE IT TO YOUR FAVORITE FOOD PLOT TO PLANT.