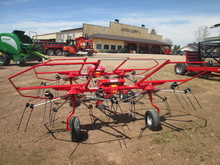 CLICK TO ENLARGE
MAKER: ENOROSSI
MODEL: G2LP
YEAR: 2018
CONDITION: NEW
TAG#: 242273
SERIAL#: N6459R01-33
PRICE: $2,509.00
---
OTHER FEATURES, SPECS OR COMMENTS:
NEW ENOROSSI G2LP 10-FOOT TWIN-ROTOR TEDDER, 10-FOOT WORKING WIDTH, 540 PTO DRIVE WITH SLIP CLUTCH, 15.6X6 TIRES, MECHANICAL ROTOR TILT.
THE WIDE RANGE OF MOUNTED AND PULL TYPE HAY TEDDER PROJECTED FOR SPREADING, AERATING AND TURNING ALL TYPES OF FORAGE ALLOWS A HOMOGENEOUS AND ANTICIPATED DRYING OF THE PRODUCT OBTAINING A HIGH QUALITY FORAGE. IT IS IDEAL FOR ALL TYPES OF GROUND EVEN HILLY ONES. OUR MACHINES ARE CHARACTERISED BY ROBUSTNESS, EASY MANAGEMENT AND LONG DURATION OVER TIME.