Hoof Trimming Chutes
---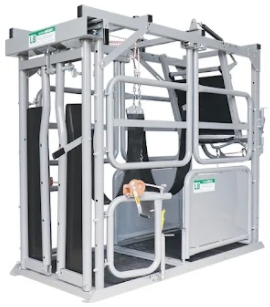 HVC12 Hoof Vet Care Chute
Veterinarians recommend the LB Manufacturing Hoof Care Chute for its well-engineered design and are satisfied for years to come with the investment that saves money, work and potential injury working with large animals. The chute provides comfort for the cow and easy use for the operator during trimming, breeding, palpitation, and other vet work.
AHG2011 Automatic Headgate standard
Front and back Belly Belts provide better animal stability
Rumber flooring provides safe footing and is quieter creating less animal stress
Side panels for optimal animal access
Durable powder coated steel frame with zinc rich primer
Dimensions: Width - 40", Length - 92", Height - 82"
SK2020 Scale Kit option for accurately weighing animals being sold or during animal care
---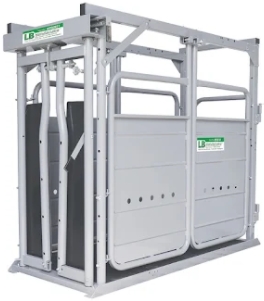 ECC12 Cattle Chute
This chute is built for tough environments to stand the test of time. Beef and dairy operations will appreciate the quality of this cattle chute.
AHG2011 Automatic Headgate standard
Heavy-duty materials manufactured with precision
Rumber flooring provides safe footing and is quieter creating less animal stress
Each side has two gate panels
Rear swing gate
Durable powder coated steel frame with zinc rich primer
Dimensions: Width - 38", Length - 94", Height - 78"
SK2020 Scale Kit option for accurately weighing animals being sold or during animal care
---