Dairy Parlors
---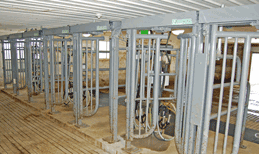 LS96 Milking Parlor
Manufactured to operate smoothly and withstand the daily rigors of heavy use, the Zimmerman LS96 Milking Parlor makes milking easier for both operators and cows. The unique powder coating on the unit extends its life for many years.
Milking your cows will be easier with the automatic features of the LS96. Your cows will thank you with higher milk production! See the Milking Parlor's versatile operation in the video at right.
For additional information visit the product pages at www.zimmermanequipment.com.
---