Digi-Star
---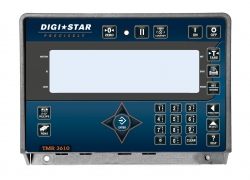 TMR 3610
The TMR 3610 is part of the 10-Series indicators, released by Digi-Star in 2016. With a new microprocessor and a new display, the 10-Series indicators offer unique and useful features including:
Easy-to-read white backlight
Enhanced Rotation Counter & hour meter funtionality
Software updates via USB
Program rations from PC or the front panel of the indicator
Compatible with TMR Tracker® Feed Management software and third-party bunk read programs
Internal "alarm light and horn" alerts operator of approaching target weights
Make "pen call weights" or "head count" changes from the indicator
Keeps up-to-date feed changes or reuses data from day-to-day
Help messages in 10 languages
Large or standard single-line alpha numeric backlit LCD
Load and feed as prompted by the indicator – no feed sheets or calculations needed
Choose how to feed, using predetermine loads or manually pick the recipe and pens to feed
Supports USB data transfer options
Supports wireless radio features of RF DataLink and Cab Control
Optional external light and horn
---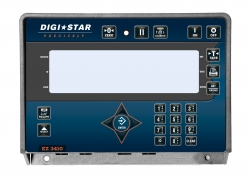 EZ 3410
The EZ 3410 is part of the Digi-Star 10-Series indicators, released in 2016. It replaced the EZ 3400VL. All 10-Series indicators come with a faster microprocessor and easy-to-read, white back light. The EZ 3410 allows you to:
Build multiple recipes for multiple pens
Utilize basic recipe and batching capabilities
Eliminate the need for feed sheets
Enter rations by three different methods:
Amount per animal
Percent per load
Amount per load
Move the cursor through setup screens and menus
Edit existing recipes or add new recipes/rations
Toggling capabilities allow users to change modes (Net/Gross/Load/Unload)
Access a definable Ingredient Name Table
Choose from 1 ingredient for 98 pens, 98 ingredients for 1 pen or any combination in between
---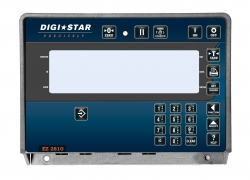 EZ 2810
Enhanced functionality with a brighter, higher-contrast display!
Large 1.7" (43mm) white backlit COG is easier to read than the EZ 2500 V
Preset Weight function provides improved accuracy and management of loading and unloading
Internal "alarm light & horn" alert operator of approaching target preset weights
Rotation Counter/Timer, a Digi-Star exclusive, aids in controlling mix time & processing
Machine Hour Meter records total operating time & Maintenance Message for service reminder functions (when used with Rotation Counter)
Optional: Remote & Serial exclusive ports, Internal & External wireless communication, External alarm
---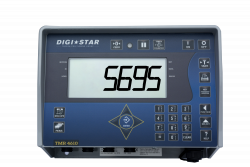 TMR 4610
The TMR 4610 upgrade is all about saving time and increasing productivity for producers. Important information is saved on a USB drive, preventing data loss and making it easier to switch mixers, should mechanical issues ensue.
The upgraded version maintains all the loading and feeding status information features of its predecessor, EZ 4600, but is loaded with new features to assist producers.
Features:
Log out and log in functions
Load and un-load progression bar graph
Enhanced rotation counter and hour meter
Internal and external radio communication
Settings and software updates with USB functionality
---